Monday, January 22, 2007
Pre-MAX Days
Thanks for the comments, everyone! :D (Both those left here, and at other places!)
I really appreciate it! I plan on keeping this well updated, so keep checking back!
The new episode is not coming for another few days or so, so here I'd just like to talk some about the show...! 初non-review entry!
**
Background: For those who might be somewhat new to the show, the original Gakkou e ikou ran from October 1997 to March 2005 (I refer to this as pre-MAX). In April 2005, the show became Gakkou e ikou MAX and overwent a huge rehaul to focus almost exclusively on students.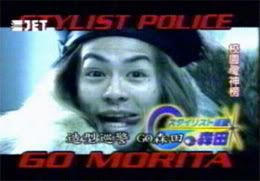 Watching some old Gakkou e ikou episodes the other day led me to think about how much the show was
changed over the 10 years since it's begun. Wow, 10 years. If you think about it, it's pretty amazing! In a world where most idols and their activities are short-lived, it's pretty amazing to think that what is essentially an idol-show is still going strong.
It's undeniable that the show has changed so much from it's early days - especially since the show completely switched format and became Gakkou e ikou MAX in April of 2005. I think it's funny how a show called Gakkou e ikou (Let's go to school!) of all
things only really became focused on school/ stud
ents after MAX. Pre-MAX did have it's school related segments
(Miseinen no shuchou is perhaps the best example, and is also one of the most
popular segments), but for the most part, the segments were your standard, wacky variety-show fare, revolving mostly around comedy
skits, segments with audience/regular people participation, and games, with slapstick abound. The point of it all? Well, there really wasn't one. How seriously could you take members of a boy band walking around the streets of Tokyo smacking people over the head with toys and cutting off the heels of their platforms?! And, wait... this is the same show with B-RAP High School? That's right, pre-MAX segments were completely
random - as in, they're completely different
from
each other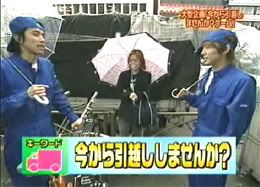 and about the on
ly thing you'll find in common with them is the
members of
V6. That there was no point or connection to the segments didn't matter -
it was about being funny, drawing laughs, and entertaining the viewer in an anything-goes kind of way - and that was where it really succeeded. You didn't need to be a fan of V6 t
o get into it - the pure hilarity of it was enough to draw you in and get you to go, who ARE these guys?!
Click here
for a great site detailing a lot of the pre-MAX segments in-depth, with screenshots! Great resource.
For my next post I'll go on to talk a bit about the transition to MAX, and what's really changed from the older days... and has it been for the better, or for the the worse!? hmmm...
Labels: pre-MAX
posted by jan, 00:17
---
5 Comments: