Friday, March 16, 2007
Gakkou e ikou! MAX 2007.03.13

学校へ行こう!MAX 2007.03.13
What's up everyone! ^~^*
Get your GeI on here! (That doesn't sound right..)
Today we have another

amazing school

with amazingly talented students!
Inocchi and Sakamoto go on a little trip around the school visiting the various clubs.
By the way, this is the school that famous ping-pong champ

Fukuhara Ai

is from! :O

The first thing they see upon entering the school is the
ridiculously long line of

1st place

ribbons!

First club they visit is badminton, where Inocchi decides he's going
to use a

speed gun

to calculate how fast they can hit the birdie!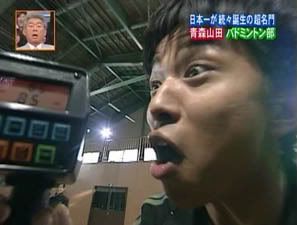 Followed by a smack upside the head courtesy of Leader XD

Next they head outside, where Inocchi spots something very peculiar.
A speedwalker!


Omg, you have to see this guy walk. His feet are like... jello?!

Inocchi and Leader decide they just have to try.
....So here we have Inocchi attacking Sakamoto for looking stupid while trying XD

BUT INOCCHI IS NO DIFFERENT.

LOL at Inocchi's hip-swaying power walk XDDDD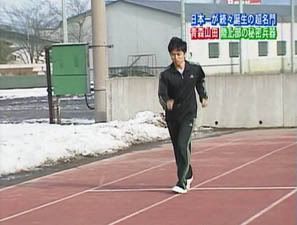 Next up is the rhythmic gymnastics club, like the one we saw
a couple weeks ago, only this time its guys!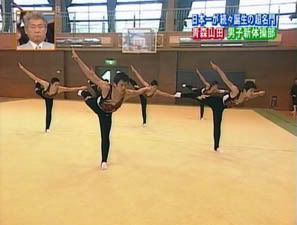 These guys are AWESOME.

After their performance, they talk about the importance of having every single one of them in sync, and demonstrates what happens when someone messes up: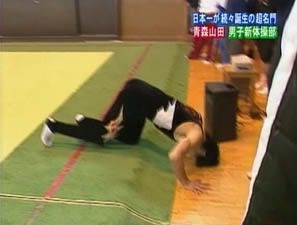 Every time they mess up, they have to bang their head on the wooden floor as punishment @_@

Commence shock!

Leader: What the hell are you doing?!
Apparently it's a long-time tradition in the club :O

Next the club decides that they're going to have Inocchi and Sakamoto learn a move
and try and do it in sync with the rest of the team.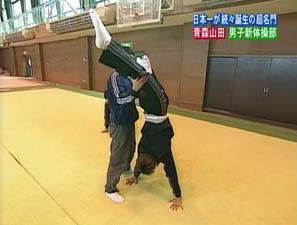 It's something like a handstand turned backflip - but it has to be in sync with everyone else.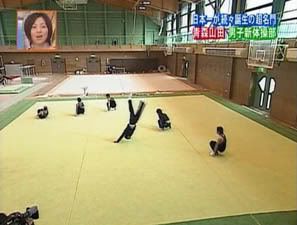 .....OOPS.


Leader cries because he has failed!
(Is that not the cutest thing ever?!)

...And then he runs over to the nearest wooden floor for punishment ROFL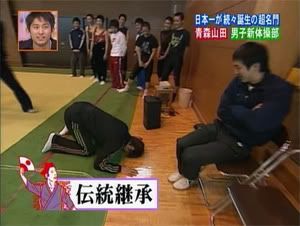 caption:

Keeping the tradition alive!

(LOL oh gakkou staff you kill me)

Amazingly enough, Inocchi does it PERFECTLY. GO INOCCHI! YEAH!

Last but not least is the ping pong club!
There's a bunch of chit chat here but I'll just get down to the best part of the whole thing.

...Inocchi's

WAVE SERVE

.

Damn. This is where I need a video of it XD

I swear, someone needs to make a GIF of that or something XD

Inocchi and Sakamoto win against one of the girls (although all they
had to do was score

one point

to win, heh)

That concludes our Aoyama school adventures!

The next segment is the

Paris Collection model

segment, where they hold an
audition for girls aspiring to be models saying they *might* have a chance
to participate in the famour Paris Collection (パリコレ).

I'll be honest and say it's

not that interesting.

(Like someone pointed out, Okada
looks like he's about to fall asleep the whole time, and with good reason XD
Poor Okada, his first segment in months and its boring. LOL)
But I will show you the girl who made it!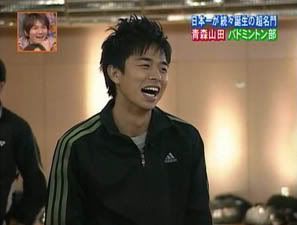 Inocchi says: see you next week for the

2 HOUR SPECIAL

!
(I just had to add in this cute picture of him somehow XD)
次回もお楽しみに!!
posted by jan, 00:01
---
11 Comments: