Saturday, May 19, 2007
Gakkou e ikou! MAX 2007.05.15
Heeeey everyone!
Hope you guys are ready for an awesome episode! :DDD
This week starts off with.... more Rei-chan and friends, can you believe it?!
These little electron divas are just getting more and more popular, so the episode starts off
with their performances from last week, in full! No edits!
At the end, they say that next week they have an important announcement concerning the girls! :O What could it be?! The good thing is it doesn't look like they're going anywhere soon! ♡
Anyways, on to today's school visit!
Inocchi and Go visit a prestigious all-girls school - Mukogawa High School - known affectionately around Osaka as the "princess school"... aka rich girls school. XD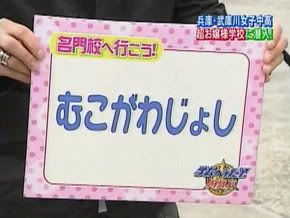 Inocchi's has a little sign with the first six syllables of the school's name: mu-ko-ga-wa-jo-shi,
and he's made a list of great things about the school using these syllables as the first letter!
I'll number them one by one!

①Moody (!?) angels sing you a love song!
Err, moody? XD Anyways, he's talking about the chorus club!
They travel around the world doing performances, always singing songs in the language of the country they're visiting! They sing a song for V6...
And Go cries. Or pretends to. I dunno.
②Students who have famous ancestors!
Yes, some students are the descendents of famous historical figures!
One girl is related to a famous figure named Rokkaku, so Inocchi asks her if her last name is Rokkaku. She says no, actually her name is...
MATSUURA AYA
. XDD
Inocchi: Ayaya?!?
③Scientific researchers you wouldn't even think were students!
Yes, this school has an amazing science classes, where they study it intensely - and in ENGLISH!
Inocchi and Go look on curiously. In lab coats.♡
The science sensei decides to show them some amazing experiments, including putting things into a beaker filled with freeeezing liquid nitrogen. (-196℃!!!!)
First, they dip a rose into it, and have Morita feel it. He barely touches it and it crumbles, causing him to jump back and grab onto Ino XD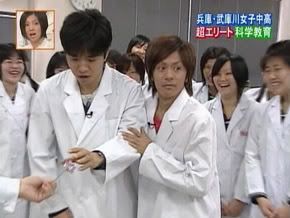 You'd think it bit him or something, LOL.
The tennis ball they try next shatters as it's dropped onto the ground.
And the balloon...?
Inocchi and Go wait for the worst: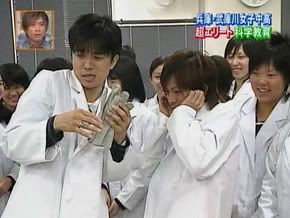 It doesn't pop, though - it shrivels up as it's placed in the nitrogen, and returns to its normal shape once taken out! :O すごーい!
Lastly, Go pretends to make a paper catch on fire through willpower... and, while his willpower had nothing to do with it, it DOES burst into flames. ROFL.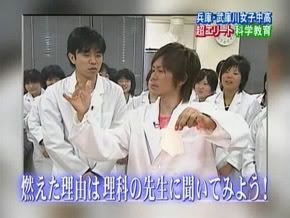 Commence more freaking out XDD
④Our dream is to win the Competition!
This is the dream of the school's broadcasting club!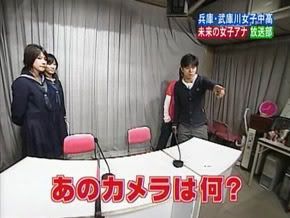 V6 check out their rockin' studio.
There, Inocchi gets an idea - they should participate in their lunchtime video broadcast!
And be DJs!! XD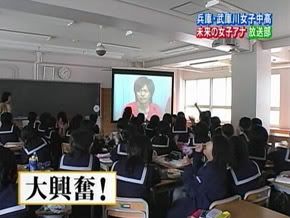 The girls go NUTS when they see that the special guest stars are NOT a joke XD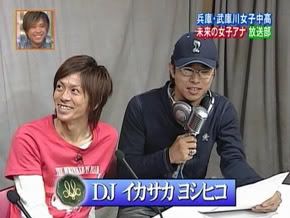 DJ INO!!!!!!! XD LOVE.
They play a request from "Morita Go from Saitama prefecture": Onyanko Club's
"Sailor fuku wo nugasanaide"
Note: Gakkou regular Marina is an ex-Onyanko Club member, LOL XD Just look at her reaction!
At the end of the broadcast, the students clap wildly and one girl shouts out: "Marry me Inocchi!" XD
HEY THAT'S MY LINE *cough*

⑤

refers to the school's awesome baton-twirling club. Cue performance. :D
No V6 attempts this time though. Damn.
And lastly!

⑥We end with calligraphy!
They go and visit the calligraphy club, who does some amazing stuff: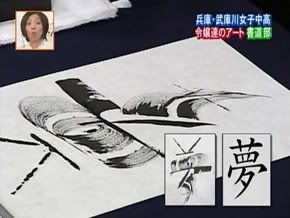 This is the character for dream, ゆめ(夢). かっこいいー!
This time, V6 gets to try it out :D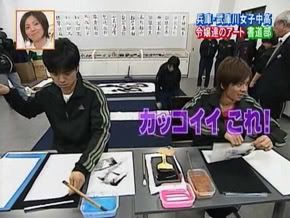 Go is convinced that his piece is "awesome" XDDD
And it's actually cute good!
Inocchi's... is....
LOL?!
Then, they get to try out GIANT CALLIGRAPHY!
I've actually done this before! :D

Inocchi draws the character for
inochi
- "life!"
Go writes...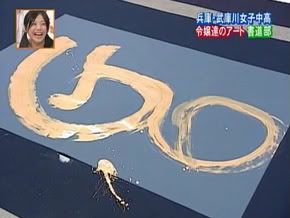 his name, in romaji. XD
He points to the middle: "This line here is right around the summer I turned 17... and then it curves up like this as I head towards my 20s" XD
Inocchi: "And then from there it gets really thin, are you doing all right?!"
LOL!!!
At the end, they all do a group effort, writing out the name of the segment:
名門校へ行こう!(Let's go to a prestigious school!)
Which wraps up this school visit!
Next, something totally new -- a segment about

TRAINS!
In particular... TRAIN OTAKU!
Leader and Ken are here to meet a group of otaku who love trains!


who call themselves: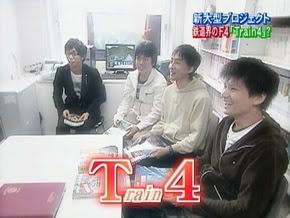 T4. You know, kind of like F4? Hana yori dango?
Hence the Arashi theme song playing in the background, heh.
Kaho-chan even tags along this time, and they have a little geek-out fest with T4
explaining the ins and outs of otaku train fandom. Like, did you know that there are differents KINDS of train otaku?! Yup, you have your train-riding otaku, train picture-taking otaku, train figure-collecting otaku, otaku who love train sounds, etc etc.
However, they all admit to having the same problem: girls.
Girls don't have a very positive image of otaku, and train otaku are no different.
So here, they have an idea: let's make a commercial that will get girls into trains too!
They base it off a pre-exisiting JR commercial from the 80s, and use Kaho and Ken as the stars☆
IT IS AWESOME! (yeah I'm really descriptive, I know XD)
Scenario: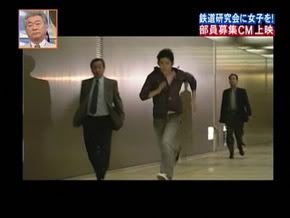 Ken runs frantically through the station to meet Kaho-chan, who's not happy with him...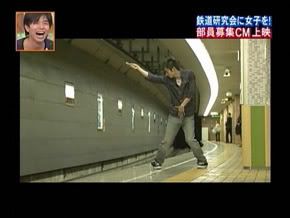 ...so he tries to impress her with his moves, LOL!
This is a must see! XDDD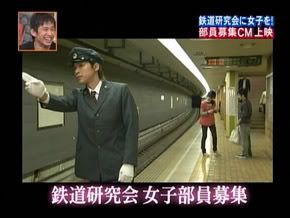 Kaho-chan seems to forgive him and everything is right with the world.
And here we see Leader as the station attendant, AHHHH ♡ CUTE!
Next week - more trains as the cast of the currently running drama Tokkyu Tanaka No. 5 join Gakkou e ikou! This segment was just to get us warmed up, y'see~
Anyways thanks for reading! XD Comments are looove.
次回もお楽しみに!!
posted by jan, 23:07
---
22 Comments: