Monday, May 28, 2007
Gakkou e ikou! MAX 2007.05.22
学校へ行こう!MAX 2007.05.22

Finally here :D
Download your episode of Gakkou here or here!

We start off today's episode with an IMPORTANT ANNOUNCEMENT!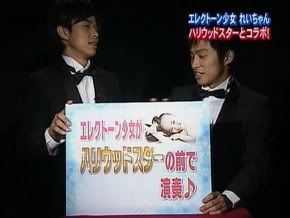 Concerning Rei-chan!
It turns out that when Johnny Depp is back in Japan promoting PotC 3,
Rei-chan is going to play for him! OMG Can't WAIT! ♡
Johnny was SO great with the kids who interviewed him before on Gakkou... aww!
Can't wait to see what he thinks of the amazing Rei-chan :]

On to today's main segment: more trains!


The three leads of Tokkyu Tanaka 3go join the show today!
From left to right: Katou Rosa, Kuriyama Chiaki, and Tanaka Koki!

Today they're going on a train ride with Miyake, Nagano, two members of T4 (see last episode's summary for more info), and the train otaku manager.
OH and this guy, who is also from the show but for some reason is selling train bentos XD


"This bento here - they steam it using the steam from the SL train!"
LOL ok sure XD
Nagano sounds like he actually believes him!



They buy their bentos and head out to the platform, where they see their train pulling up!
They reserved this train especially for the show♡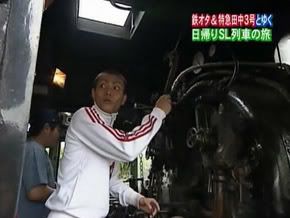 Tanaka asks if he can do the "choo-choo", and they let him XD
Well, they let everyone, actually. Including Miyake, who does it loud and obnoxiously and
gets yelled at for it, LOL!

Soon they're off and riding down the tracks!
Everyone is stoked!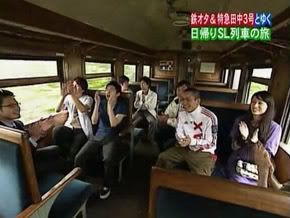 At one point while everyone waves normally out the window at the cameramen, Miyake and Nagano have to WAVE THEIR ARMS WILDLY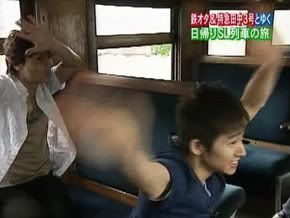 They soon learn something important: the train they're riding being a steam engine and all, when the train passes through tunnels you're supposed to close the windows so that the steam doesn't come in.

BUT, the first tunnel kind of sneaks up on them, leading to....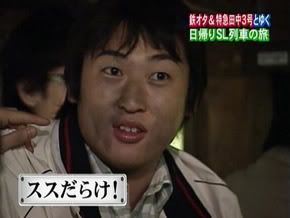 LOL. Everyone laughs at him :D

Not long after, the train conductor tells them that they can see the Tanuki Forest to their left - they look out to see a bunch of Tanuki statues along with.... huh?!


Neko Hiroshi?!
A neko in the tanuki forest?! XD
Poor Hiroshi. Called all the way out to Shizuoka just to go nya~ at them on the side of the road?!

They go on...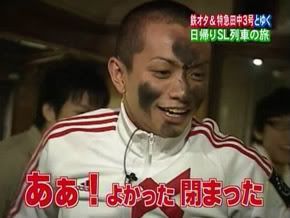 ...need I explain what happened this time? XD
However, a little box in the corner of the screen explained that one's face doesn't actually turn black from train smoke. Tanaka probably just rubbed it all over his face XD
His reaction upon looking into the mirror did seem genuine, though.

After about an hour they reach their destination, where they get off the train and break off into two groups: the Coal Group and the Foot Bath Group.
The Coal Group gets to shove coal into the train furnace, while the
foot bath group just gets to chill and relax: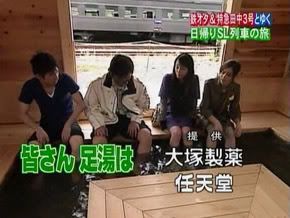 They try to have a conversation, but end up getting oh-so-rudely interrupted:


ROFL!

They board the train again and get ready to head back home - and on the
way back they bust out the bentos! Look at this fancy one Tanaka chose:


YUM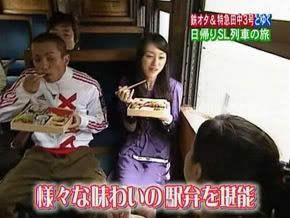 EVERYONE ENJOYS.
And that's the end of their train trip! Everyone agrees that it was buckets of fun.

NEXT UP!

Some more 60-second reports!
They had some cute ones this time around~
① "Yuzuyu" Live!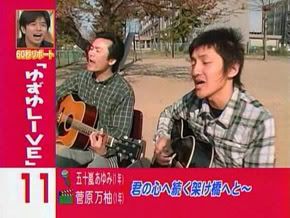 The first clip introduces a singing-and-guitar-playing teacher duo
who call themselves Yuzuyu, after the famous duo Yuzu XD
They're awesome! GO SENSEIS!

② The odd basketball team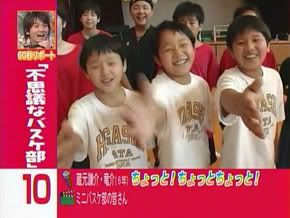 Why is this basketball team so odd, you ask?
It's composed of a crazy number of twins and even a set of triplets! (pictured)
Cuuuute~

③ Private Report


A student aiming to be a NHK announcer takes the opportunity to interview his father, who works at the school. Apparently the father doesn't know about the interview, since his reponses mostly consist of "wh-what the heck are you doing?!" and "what's gotten into you?!" LOL. XD

④Digging for bamboo shoots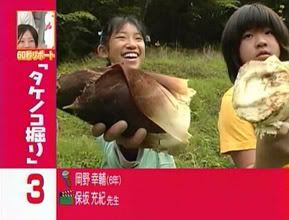 The last report is about a favorite pasttime of this particular school:
digging for bamboo shoots! I mean look at those things!
What's also crazy about this school is that there are a mere
seven - count 'em, seven - students.

That wraps up this edition of Gakkou e ikou!
Hopefully we'll be seeing some Johnny Depp love in the near future :]

次回もお楽しみに!!

posted by jan, 00:31
---
22 Comments: