Wednesday, May 09, 2007
Gakkou e ikou! MAX 2007.05.08

学校へ行こう!MAX 2007.05.08


HI EVERYONE!
Time for another episode of Gakkou e ikou~~~☆
Download it here or here or here!

This week V6 decides to go visit.... Rei-chan from last week again! XD
Wellll that was quick!

I guess Sensei sent them another letter with Rei-chan asking them to "please come again♡":

omg that sensei is just probably using cute lil' Rei-chan so she can see Leader again ROFL

Anyways, this time it's Leader and Miyake who are off to see them!
First though, they must meet up with that wonderful Sensei.....

....who is busy feeding the monkeys. LOL.
How embarrassing! She says.
But wait - waving "goodbye to Mr. Monkey" on their way out is not?!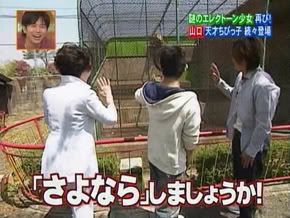 XD
They reach the classroom, and they're treated to another cute performance by the little kiddies!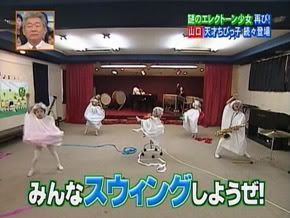 This time they're doing some ribon twirling, but...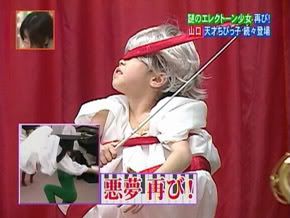 UH-OH.
This is the same little girl who was kicking her feet so hard her
sheet fell off last time, as they show you here. LOLOLOL.

They switch costumes (with their mommies' help again!) and circle around V6♡

...Except for Rei-chan, who's kind of lost and doing her own thing. XD

The dance ends, and one of the kids calls out "Miyake-san! How did you like it!?"
as he runs up and grabs Leader's arm.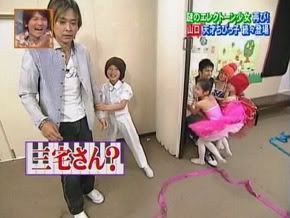 Leader goes into shock, while Ken just stands there laughing while all of the kids cling to him.
I swear, KIDS LOVE KEN!

Poor Leader XDDD

Next, Sensei introduces a 16-year-old student who has been playing electone since the age of 2 and is subsequently amazing :0 She plays "Hyokkori Hyoutanjima" for them (no V6 song? XD)

Next, it's Rei-chan's turn!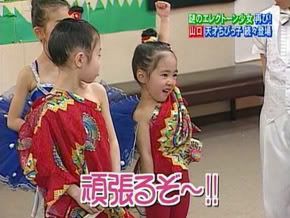 "I'll do my best!"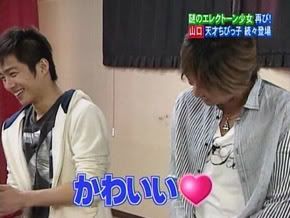 かわいい♡

Rei-chan and Makoto-chan team up for a dramatic (?) duet of "Twinkle Twinkle Little Star"...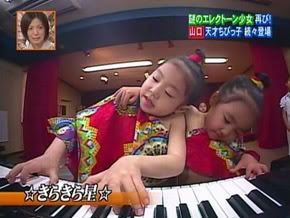 ....which puts Leader into a fit of giggles: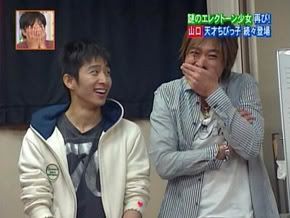 Ken: ...you okay there?
Their next song is a rendition of 剣の舞, or "Sabre Dance", a classical piece by Aram Khachaturian - it's one of those songs anybody would recognize if they heard it XD
It was quite amazing! I loved it!

After that, it's time to say goodbye once again~
Sakamoto decides to ask Rei-chan what she wants to be when she grows up.
"

A flower shop lady

!" she replies.
Sensei chimes in: "Before you said you wanted to win a music competition though, right? Right? Here, let's try that question again~"
Leader asks her a second time, and... her answer is the same. Toooo funny!

At the end of this segment, they had an announcement saying they're looking for other amazing kid performers! What's that?? More V6+kids?! YESSSSS :DD

Next up, the same Leader+Miyake combo visit a super school in Kyoto!
So super, in fact, that they've made a ranking of the 10 coolest things about it!

TOP 10 COOL THINGS ABOUT RAKUNAN HIGH SCHOOL:


⑩The school is located right where the famous Buddhist temple Touji is.
⑨The school has had the highest number of Kyoto Daigaku transfers for 17 years straight.
⑧The wind ensemble club has an insanely rigid structure for its meetings.
⑦The track-and-field coach is a former Olympic athelete!
⑥The have a Quiz Research Club!

...and this is where V6 has some fun XD
The quiz research club is, well, basically that. They love trivia and strive to be the best at knowing random stuff! It turns out that Miyake also loves trivia!

They're pretty good, though: they beat him at the first two questions.
Ken gets the third one though, and thinks he's the bomb:

Sakamoto quickly points out that he should just JOIN THE CLUB ALREADY, GOSH


On with the countdown!

⑤The volleyball team is amazing.
④They have a male chorus club!
③Their English teacher was the model for the teacher in Dragon-Zakura
②They have an awesome male gymnastic team.
And number one!
①They have the number one basketball shooter! wooo~!

Apparently this kid is an amazing shooter. So just for the heck of it, the ask Okada how many shoots he thinks the guy can make in a row. He guesses 17. He actually shoots...

33! Holy crap.
And 99% of those shots were nothing but net, literally. Amaaaazing!

And that's it for today! There were a couple more 60-second reports, including another love kokuhaku that wasn't nearly as interesting as the first. Oh well. XD

Thaaaanks for reading! ♡ See you next week!
次回もお楽しみに!!
posted by jan, 23:01
---
25 Comments: